Welcome to our  Fight For The Cure. 
We will accept donations for the month of October in support of the Fight For The Cure.  All proceeds from our Apple Cinnamon protein product will also be donated.  We ask that you donate today.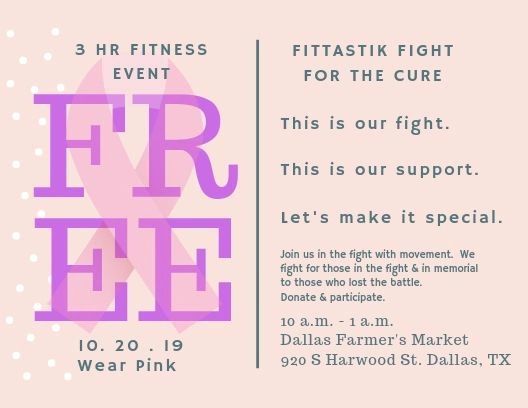 In addition we will hold a 3 hour Fitness event for the Fight. Join us Sunday,  October 20, 2019​
We at Fittastik invite you to join us for a family friendly fitness event. Our goal is to raise awareness and financial resources for cancer research.

By participating in this fundraiser, you'll hear shared stories of victories and loses of those impacted by cancer while raising much needed funds for research. Your funds will support both local and national research programs.

What you need to know:
WHAT:
3 hour fitness event 
WHERE:
Dallas Farmer's Market
920 S. Harwood St. 
Dallas, TX 
WHEN:

October 20, 2019
Check-in and Onsite Registration: 
10:00 a.m.
Please arrive by 10:20 am if you have not pre-registered.
We will be accept donations online or at the door via Cash, Check or Credit/Debit Card 
First Fitness session will begin at 10:30am
Stay after the event to celebrate with our survivors, and each donor will receive a gift!
WHO:
Adults. Children, Pets are FREE to join us.